Business sectors
AXIOME operaTES in many sectors of activities
A complete robotic solution, adapted to your needs
Our expertise and concern for customer satisfaction have enabled us to deliver more than 500 installations worldwide. Our engineers and technicians put their experience and skills at your service to deliver a solution that meets your needs. You can be sure that you will be delivered, wherever you are.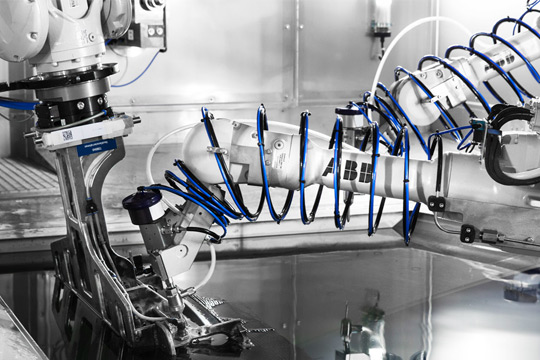 Find the machine that suits your business
AXIOME designs and manufactures a wide range of robotic cells. Our machines can be adapted to your needs in terms of cost, design, and productivity. The different processes that our machines integrate are reliable and adaptable. It allows you to strengthen your competitive advantage, while guaranteeing an optimal ratio between productivity and production costs.  
 
Robotic machines made by experts
TEST FACILITIES
AXIOME has a robotic workshops to carry out tests, validations and small productions. The robotic test centre includes two robotic water jet cutting cells, a machining cell and a deburring cells.
NEWS
AXIOME will be present at the various composite exhibitions:
- Composite meetings 2021
- SAMPE France 2021
- Plastics meetings 2021
Reactive customer support, always at your disposal
We remain at your disposal to support your company during the life cycle of your machine through various customer services such as maintenance, training and spare parts. To get more information about our solutions and services or to discover our product offer, do not wait any longer and contact us directly via our form. Our sales team will study your project with the greatest interest and will come back to you quickly to provide you with the solution best suited to your needs.