Metal additive manufacturing
AXIOME robotic 3D printing machines
AXIOME designs and creates robotic additive manufacturing machines. Robotic 3D printing has many applications. It adds to the advantages of the printing process, the flexibility and agility of a polyarticulated robot. This therefore opens up the possibilities of large-scale printing without size or geometry limits.
The technology used in our applications is that of metal deposition (Metal Laser Deposition). The beads of material, in the form of wire, are melted using laser heating. Wire comes in coils of stainless steels (316L, 308L, 304L), titanium (Ti6Al-4V), base steel (ER70S), inconel (In718) or copper and others...
Our expertise
AXIOME offers turnkey solutions.
The proposed heads make it possible to achieve the following performances:
Bead height: from 0.3mm to 1.2mm.
Cord thickness: from 0.8mm to 1mm.
The classic deposition rate: from 0.1 to 1 kg/h.
Process control that reads and verifies data from various sensors such as voltage, current and force applied to the wire.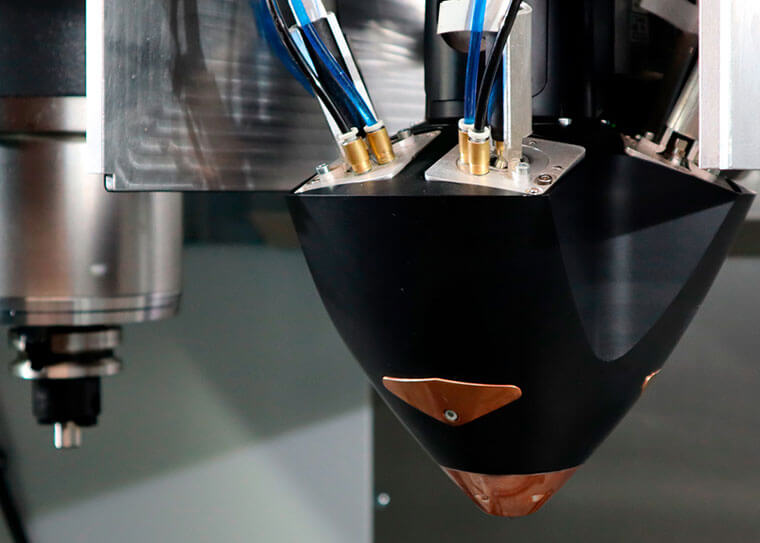 The AGIL range of additive manufacturing machines developed by AXIOME
Version One
This machine is composed of a 6-axis robot on a plateform, integrating the head and its peripherals, all in a secure enclosure adapted to the laser printing process. This configuration allows the printing of small, simple 3D parts.
Version Flex 
In this configuration, the machine is made up of a 6-axis robot on a plateform, integrating the head and the peripherals. The robot works on a positioner with 2 additional rotation axes in order to have total flexibility.
Version Large 
In this configuration, the machine is made up of a 6-axis robot on a plateform, integrating the head and the peripherals. The robot is placed on a linear axis to print very large parts.
ADDITIVE MANUFACTURING APPLICATION EXAMPLES
Part with interior cavities, completely or partially hollowed. This technology saves weight and places reinforcements only where necessary.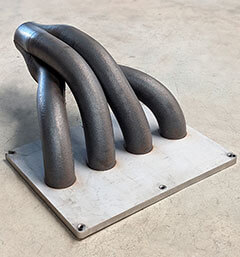 Nested pipes: additive manufacturing allows the production of complex shapes, very difficult to achieve with other technologies.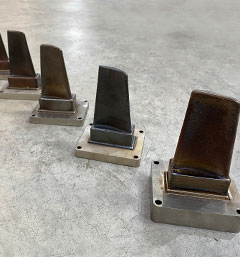 Blade manufacturing: large manufacturing flexibility with easy adaptation to a wide range of parts.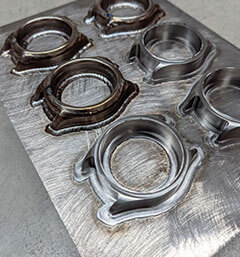 Additive manufacturing makes it possible to carry out mass production, in particular for the medical, aeronautical, transport and watchmaking sectors. Here is an example with watch cases.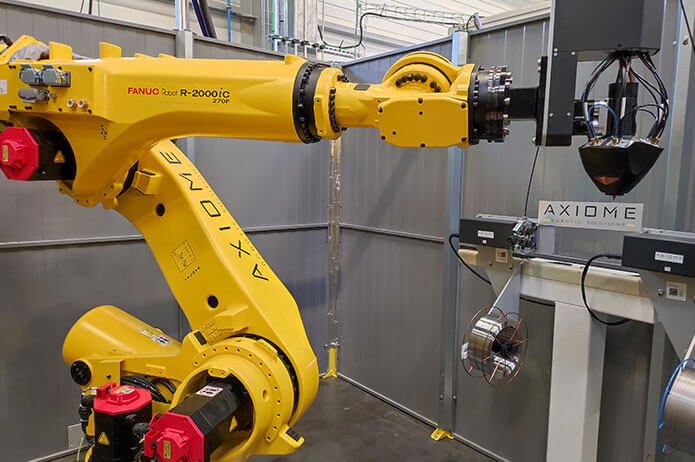 Metal deposition by laser
Laser Metal Deposition is a Directed Energy Deposition (DED) process that works by precisely stacking layers of weld beads, in wire form, as they are introduced into the laser-generated meltpool.
The possibilities of creating parts are immense. It is possible to design small custom parts, complex high performance parts as well as sophisticated designs.
Choosing an additive manufacturing machine
0% MATERIAL waste
The multi-laser metal deposition process enables the wire to enter the meltpool coaxially and efficiently using 100% of the material, unlike other processes which have up to 50% material waste that cannot be recycled.
CoNTROLLED PROCESS
The wire-arc process is by nature out of control. For the past 20 years a lot of overhead has been required to stabilize the process through scanners and thermal cameras. Here the wire enters the meltpool coaxially and melts at the point of contact with the substrate.