WATER JET CUTTING MACHINES
Pure waterjet
AXIOME designs single or multiple robot cutting solutions for pure water jet cutting in order to meet the needs of its customers in different sectors such as:
Automotive 
Insulation cutting
Food industry
The principle of robotic water jet cutting consists in projecting water at a very high speed: 600 to 900 metres / second, i.e. 2 to 3 times the speed of sound. The water, via an Ultra High Pressure pump, from 2,000 to 4,000 bars is then directed to an accumulator and propelled through a nozzle with a diameter of 0.10 to 0.40 mm.
This process is used on thin soft materials:
Plastics
Carpets
Foam
Soundproofing materials
Rubber
Composites
Combination of textile and NFPP
The number of cutting heads, the pressure and flow rate of each nozzle and the robot tip are adapted to the materials and parts to be cut.
Abrasive waterjet
The principle of cutting and/or routing by water jet loaded with abrasive consists in spraying abrasive at high speed on the material to be cut.
The water is compressed from 2000 to 4000 bar and used to propel the abrasive through a specific cutting head with a mixing chamber. The abrasive waterjet will cut the hardest materials without thermal stress in the cut: 
Steel
Titanium
Aluminium
Marble
Glass
Composites materials (carbon and kevlar fiber…)
The complete abrasive cutting system includes:
An abrasive storage hopper
An abrasive dosing system
A pipe for transporting the abrasive to the head
A special abrasive head comprising a nozzle and a mixing chamber operating by the Ventur effect
A tungsten carbide focusing gun

Pure waterjet cutting applications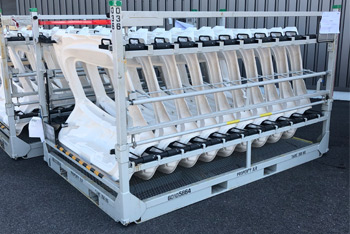 Cutting of automotive parts
AXIOME designs machines integrating polyarticulated robots - single or double - robots, especially for the automotive sector, and adapts according to the cutting and production rate.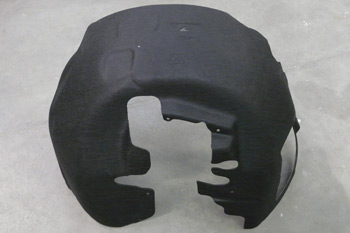 Cutting soft materials
The pure water jet cutting technology allows to obtain a high quality result on soft materials such as flexible plastic, woodstock, rubber, foam, polypropylene...
AXIOME has already cut parts such as floor mats, boot linings, tailgates, shock absorbing beams, door panels...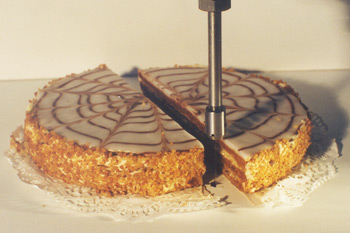 Food industry
Pure water jet cutting offers many advantages for cutting products from the food industry: fast cutting without direct contact with the food product, no cutting effort and no deformation or crushing of the product, and finally a technology adapted to any type of food.

Abrasive water jet cutting applications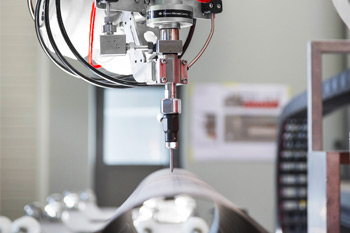 Cutting of metals
AXIOME offers cutting solutions for metals, steel and aluminium in the metal industry as well as in the foundry sector for decarrowing and demolition. For cutting large tubes the robot can be used on a linear axis (7th axis) and the tube to be cut, mounted on an 8th axis.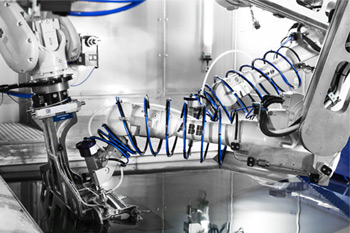 Cutting of composite parts
To cut composite materials, AXIOME uses 6-axis poly-articulated robots and offers the possibility of mixing abrasive water jet and milling technologies. These technologies allow the cutting and routing of complex shapes with multiple program options.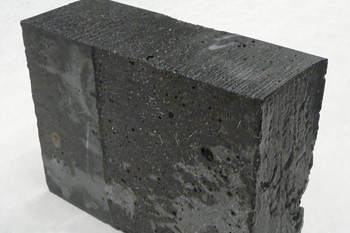 Cutting of minerals
AXIOME masters the cutting of minerals such as stone, granite, marble or tiles. This technology can be used in the field of marquetry thanks to a very fine cutting line for the production of interlocking parts.
Robotic skills and expertise
WATER JET CUTTING TECHNOLOGY 
BENEFITS OF PURE WATER JET
Flexibility of the process
No direct contact with the part 
No material deformation
No thermally affected area
Cutting speed
Wear of the controlled tool
No toxic gas emissions
Dust collection
Cutting in immersion possible 
BENEFITS OF ABRASIVE WATER JET
Very wide range of materials
No thermally affected area
Very fine spray, very thin cutting line
High cutting speed 
Possible complementary axes
Evacuate falls automatically
Closed circuit water filtration