NON DESTRUCTIVE TESTING MACHINES

THERMOGRAPHy
INSPECTION

ULTRASONIC
TESTING

terahertz
control
control by shearography
Non Destructive Testing (NDT) is a method of detecting anomalies in the material without altering it, which determines whether the parts tested comply with the end customer's specification. AXIOME can integrate different NDT processes such as Ultrasonic Testing, Thermography, Terahertz control or Shearography. AXIOME partners with the best specialists in these processes to offer compelete solutions to its customers.
There are several applications and these processes can detect for example:
Heterogeneity
Lack of material
Coves
Inclusions
Delaminations
Damage by impact
Corrosion
Water trapped
Porosities
The integration of some NDT processes is based on the use of 2 robots working in synchronized mode, with a transmitter and a receiver. AXIOME designs cells that can work in "carried parts" - the robot carries the part - or in fixed parts and carried tools. For large parts AXIOME uses external axes such as the linear rail or rotary table. The implementation of NDT with a robot makes it possible to control the part, but also to locate the defects and map them, or even to signal their positions for a restart.
NDT has become an essential tool for quality control. AXIOME has developed applications to control parts in different sectors of activity such as automotive or aeronautics, and this method can be used both on large composite parts and small mechanical parts.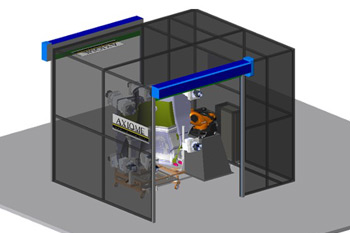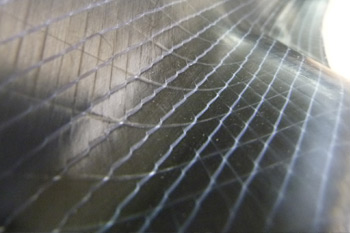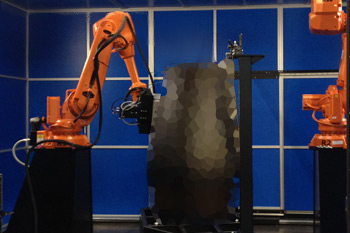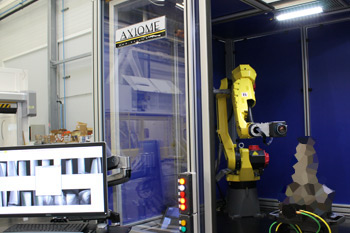 Robotic skills and expertise
BENEFITS OF NDT
Fast
No contact
Complex geometries
Large dimensions
Repeatable
WHY AUTOMATE NDT?
Tasks are repetitive
The high speed of production requires that cycle times are respected
The diversity of the parts
The complex shapes of the parts require 3D tool positioning in 6 axes (XYZ + orientations)
High repeatability of the treatment