FLUID JET DEBURRING MACHINES
Very High Pressure deburring, by water or oil jet is used to deburr relatively soft materials:
Aluminium alloy
Copper
Brass
Plastic derivatives
The deburring machines are equipped with a Triplex pump (flow rate up to 60l/min) and a fixed or rotating jet head. Ultra high pressure deburring is used for relatively hard materials such as stainless steel, hardened steel... The pressure is 1,000 to 3,500 bar. It is the pressure of the fluid that is then privileged over the flow rate. 

Deburring applications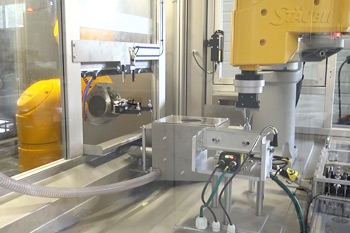 Large and very large deburring series
AXIOME designs single or double robot machines for sector like the automotive, and adapts to the customer's deburring pace. Fluid jet deburring is a solution adapted for hard to soft materials. This technology can be combined with vision processes for traceability management.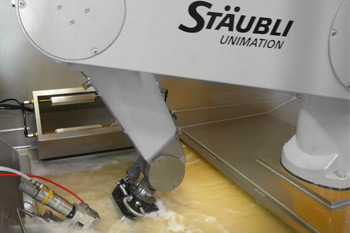 Deburring of brass and aluminium parts
AXIOME specializes in deburring parts for the automotive, watchmaking, aeronautic industries, and offers the possibility of using single-jet or rotary head nozzles (multi nozzles) to remove chips and burrs with precision.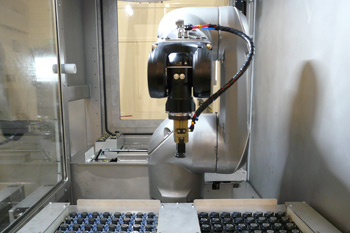 Vehicle injector parts
A specific AXIOME development allows the deburring of injection parts to be carried out with high repeatability and in a fully automatic way. These machines are a cost effective solution compared to other deburring processes. The use of the robot provides great flexibility.
Robotic skills and expertise
BENEFITS OF DEBURRING
Accessibility in difficult arreas
Small diameters
No thermal effects 
Consistency of the result
Cleanliness of deburred parts
Absence of marks and cracks
Respect for the environment