Siétar & Vti invests 650 000€ in a unique solution in France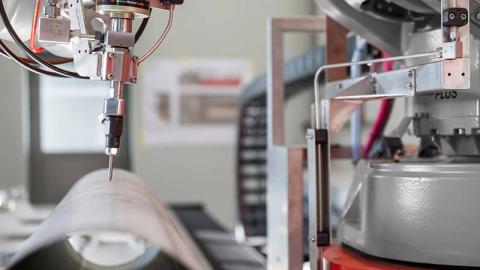 Brief
For its 40 years of existence, Siétar & Vti, an industrial piping and boilermaking company located in Auray, has just commissioned a robotic cell unique in France for 3D water jet cutting on pipes and ducts up to 1200mm in diameter.

Siétar & Vti is a company based in Auray (Morbihan) that operates in the fields of piping and industrial boiler making for the dairy, food and environmental industries. It implements solutions for food processes and fluid, thermal and thermodynamic processes. Siétar & Vti, which celebrates its 40th anniversary this year (created in April 1974), employs 39 people. 
This company already distinguished itself in its field of activity by having, since 1992, integrated into its manufacturing process the prefabrication of its pipes by numerical control bending, allowing increased quality by reducing the risks of bacteriological contamination of its process lines, while rationalizing and optimizing costs. It is in the same spirit that Siétar & Vti has just commissioned a water jet cutting robot with axes. This allows Siétar & Vti to carry out not only its in-house sheet metal cutting, but also its cutting on tubes and ducts up to 1200mm in diameter in an automated way, on all types of materials and up to 25mm thick. These new possibilities meet an internal need for the manufacture of pressure or non-pressure equipment, but will also enable Siétar & Vti to offer cold cutting services on tubes, without deformation or modification of the metallurgical characteristics of the parts.

This machine was developed in collaboration with AXIOME (Vendée-region); there is no equivalent in France and this new solution will enable Siétar & Vti to meet the cutting needs of other sectors like piping and/or metallurgical, steel or stainless steel construction, such as those of the naval, nuclear, petrochemical or renewable marine energies.
On the same occasion, Siétar & Vti extended its buildings, bringing its covered area to 1,500m2. 
 Portail de l'innovation Bretagne, 05/01/2015