AXIOME reaveals its new technical center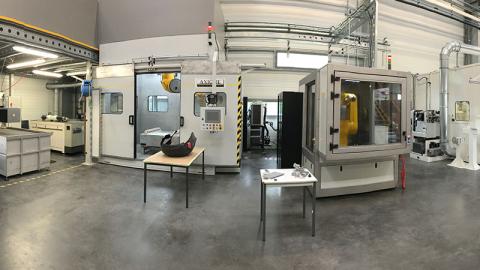 In 2018, AXIOME developed robotic means for process validation and today unveils its new technical center.
In consultation with its customers and thanks to the commitment of its employees, AXIOME has developed several cutting-edge robot cells. These machines carry out tests and pre-series under real conditions, in order to validate the processes proposed by AXIOME, with a view to future industrialization.
This technical center has three cells. A mechanical milling and deburring cell. This machine is equipped with a latest generation ABB IRB 6620 robot, an HSC spindle equipped with an automatic tool changer and dust extraction. The force sensor at the end of this robot analyzes the data in real time, and adapts the trajectories if necessary. A fluid jet deburring cell. This machine integrates a Stäubli robot, offering the possibility of working in immersion for fluid jet deburring of 3D parts of various materials. Connected to a 2,500 bar, 15 l/min triplex pump, or a 3,800 bar, 2.5 l/min pump, it can work with water or oil.
A waterjet or abrasive cutting cell equipped with a suspended Stäubli RX160 robot, thus covering a work volume of up to 2,000 x 2,000 x 800 mm. This robot carries out trials or pre-series cutting of 3D parts from a wide variety of materials (composites, stainless steel, titanium, etc.).
"AXIOME has developed several state-of-the-art robotic cells"
All of these machines, coupled with means of robotic simulations, make it possible to validate the quality obtained, the process speeds, the tools, the accessibility of the areas to be treated and the cycle time of future series machines.
Machines Production, 01/10/18